Discover our pet friendly apartments in Figueretas beach, Ibiza
Your holiday in Ibiza, with your pet!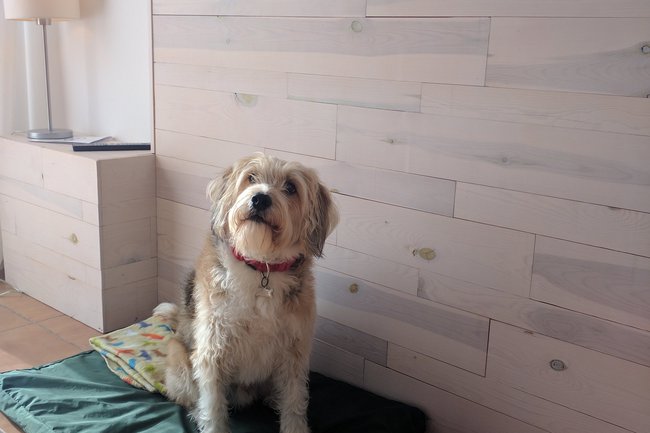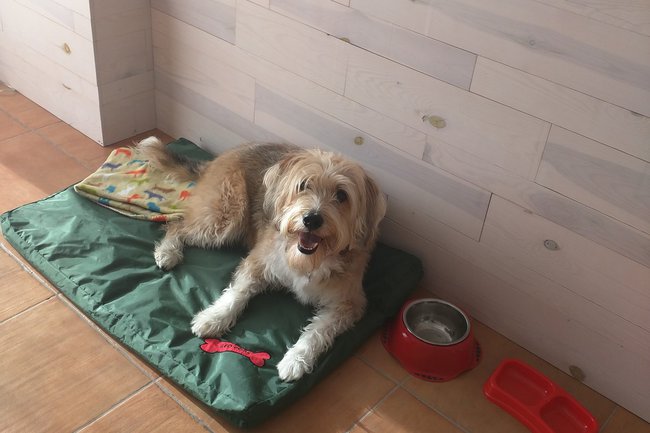 Are you one of those who can not take off your pet even during the holidays? Is your dog and you inseparable? Do you refuse to travel without your cat? Pets are welcome in our facilities and apartments! Pets are another member of the family, and at the Apartments Llobet we know it. We are a pet friendly aparthotel! In our apartments, located on the beach of Figueretas, Ibiza, in front of the sea, we are delighted to welcome you, travel with family, couple and friends, without having to separate from your pets during your stay on the island.
TERMS & CONDITIONS: ACCOMMODATION WITH PETS
Pets are allowed in our apartments under an extra charge of € 15.- per night. Small/medium size dogs and cats can stay in our apartments. Guests have to bring a leash or a pet carrier. Pets must be under control all the time while they are in the common areas.
Pets must stay in their pet carriers or under the control of its owners with a leash while our staff is cleaning the apartment, or any service is being done. Pets are not allowed to be left alone while a service is being provided in the apartment.
If your pet is used to sleeping on the sofa, we can provide a special blanket to cover it. We can also provide pet bedding, a blanket and bowls for your pet. Guests must throw away pets 'wastes. We can provide cleaning supplies if necessary. Guests agree to pay for the charges of repairs, cleaning or damages caused by their pets. Guests are responsible for the noises their pets could makeand should check that their pets do not disturb other guests.
Comfortable apartments for up to 3 adults and 1 child capacity
Bright, spacious, comfortable and very quiet. So are our apartments located in the peaceful and familiar beach of Figueretas, Ibiza. They have a whole set of elements and facilities designed to satisfy all types of guests, pets included (under supplement). We have a total of 16 apartments with a front view of the beach (two of them for people with reduced mobility) and 24 apartments with lateral views to the sea and to the swimming pool of the aparthotel. They include air conditioning, safe, private bathroom, kitchen, daily maid service, flat screen TV with satellite channels, internet connection via free wifi, room with two beds 90x190 cm ...
The completely refurbished complex, with no architectural barriers, is spread over four floors and features a swimming pool, a solarium, a gym and a chill out terrace (on the roof), as well as a restaurant with a menu suitable for celiacs, where it is possible to taste delicious culinary Of author, where ingredients and flavors of the Mediterranean gastronomy are combined with those of other corners of the world. 
Among the services we offer are the rental of bicycles and cars, tickets for discos and excursions on the island, 24-hour reception, private parking (for rent), luggage room, post office and beach items service. Towel, bag and umbrella), among many others.
Situated on the beach of Figueretas, within walking distance of Ibiza Town
Located next to the Es Vivé area, on the promenade of Figueretas, on the seafront, our apartments are the ideal option to discover the island of Ibiza. 
Dalt Vila, the old town, and the port of Ibiza are just a 20-minute walk away, approximately 2 km away. Playa d'en Bossa, the most known on the island, where some of the island's main clubs and macro-discos are located, is about a 15-minute walk away; Pacha Ibiza is only 2.6 kilometers away. The island's airport is around 15 minutes away by car. 
Book your stay now through the reservation system of our portal and benefit from the best hiring conditions, without hidden commissions or setbacks. Friendly holiday apartments in Figueretas beach, Ibiza, at the best price online guaranteed!